by Lynn Riches | Posted on 5th June 2019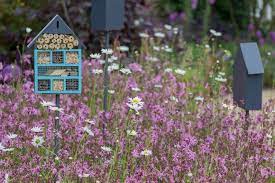 RHS Chatsworth Flower Show has again been a huge success this year with some great gardens on offer to enjoy and take inspiration from, my favourite being the shows feature garden which was packed full of ideas for enticing more wildlife into gardens – from the beautiful planting and natural bordering hedges providing space for shelter and nest sites, to the multiple bug hotels dotted around the garden, something we can all achieve in our own gardens at home.
I also loved the shows feature, "The wonderful power of trees", which celebrated our trees and revealed how trees benefit our health and wellbeing, the threats facing trees today and what's being done to protect them. It was packed full of really interesting facts and helpful information.
Visitors were able to chat to experts to find out how best to care for trees, why we need to plant them to support wildlife and discovered the wild woodlands that can be explored in the UK. Visitors were also able to listen to the secret whisperings made by trees in a unique feature 'tree listening'. They could hear the rumble of the tree moving and the popping of water as it mixed with air on its way up the tree through Xylem tubes that lie just behind the bark. It was possible to hear the very life of the tree surging up from the roots towards the leaves! It was just amazing and something I hope the RHS will repeat at other shows in the future.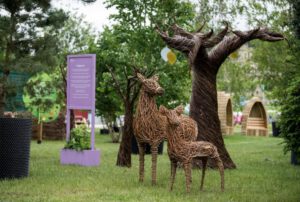 The show also celebrated the benefits of coming together as a community, to grow and create shared spaces, to support our wellbeing through gardens and wildlife and to teach our children the importance of horticulture which I am delighted to say is exactly what 'The Community Farm' and 'Valley Fest' are promoting local to us in the Chew Valley, right on our door step.
The Community Farm in Chew Magna, which provide organic vegetable boxes to around 700 customers in the area, has won national lottery funding to refurbish and expand their beautiful community garden, the 'Feel Good Garden', which will be open to all. It is place where the community can grow together, a place to connect and will be a huge benefit to local people and their wellbeing. It will include a safe space to take time out, immerse yourself in nature and enjoy the lovely lake views. There will be a pond with a dipping platform, areas to encourage wildlife and vegetable, fruit and flower growing together with improvements to an already beautiful outdoor classroom and round house.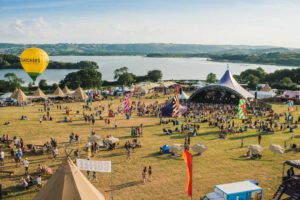 Valley Fest is held in the fields neighbouring The Community Farm and Festival goers can have tours of the farm, get involved in food and farming workshops, learn how to roll sushi, make kimchi as well as join the hugely popular bee and wildlife walks.
Valley Fest, the best-tasting music festival in the South West, have also announced
some great headliners, including some big names as well as plenty of rising stars and has the consistently biggest crowd pleaser of all: the view. Chew Valley Lake which provides the sparkling backdrop that is edged by the rolling Mendip hills.
Held on an organic working farm and spread across one gently-sloping lakeside meadow, the event is perfect for outdoor, garden and food lovers, first-time festival goers, music enthusiasts plus young and maturing families with plenty of activities for everyone. It takes place between 2nd – 4th August showcasing the region's finest produce from charcuterie to cheddars and ciders to sausages, it's hedge-to-hedge Somerset style and sizzle and most certainly has something to offer to for all the family.
RHS Hampton Court Flower Show is the next flower festival to visit and is being built as you read this article, opening its doors to the public on Tuesday 2 July, this is my favourite of all the shows and I am very excited to be part of it this year planting a show garden for the APL, our professional body, The Association of Professional Landscapers. I look forward to sharing all the news and details from the build up in next months edition.
Lynn Riches
Lynn Riches Garden Design
June 2019