by Lynn Riches | Posted on 7th July 2021
The summer is here, gardens, events and festivals are open with planting and ideas to inspire us, so lets get out there explore and enjoy them.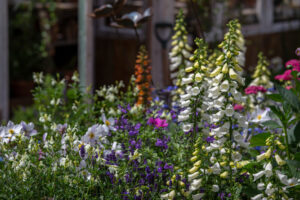 Photo Credit – RHS / Neil Hepworth
RHS Hampton Court Flower Festival took place at the beginning of July and those of you that made the journey to visit will have been treated to an extravaganza of colour, perfume and stunning displays of plants and gardens. It was the first RHS show since the pandemic and there was so much excitement and anticipation for the show of which it certainly did not disappoint. Gold, Silver-Gilt, Silver and Bronze Medals were all awarded but beyond the medals, there was a fabulous feeling of joy and gratitude to be out there again, to be able to enjoy the beautiful gardens, the plants, the music and the food, it really was a huge effort by the RHS to stage the event and it was very much appreciated by all.
There were Show Gardens, Global Impact Gardens and Lifestyle Gardens, many of the designs with important messages to choose from. My favourite of all the gardens was Jamie Butterworths RHS feature Garden for a Green Future which drew attention to the impact that the changing climate is having on UK gardens. I agree with Jamie in that our gardens need to be versatile and filled with plants able to cope in diverse weather conditions including harsh summer heat and lengthy periods of winter wet. It allowed the visitor to draw inspiration from this dynamic space, taking planting and landscaping ideas home for use in their own garden.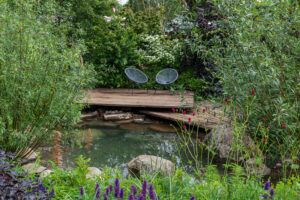 Photo credit – RHS / Tim Sandall
You can view the gardens online if you didn't manage to visit the show, the ones to look out include The Cancer Research UK Legacy Garden by Tom Simpson, designed to highlight progress within cancer research. The Canal & River Trust: Message in a Bottle, designed by Tracy Foster;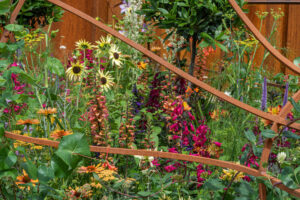 Photo credit – RHS / Tim Sandall
The APL 'A Place to Meet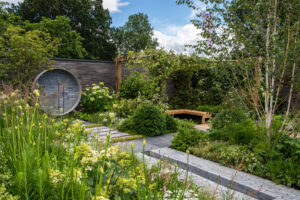 photo credit – RHS / Joanna Kossak
The RHS No Dig Allotment Demonstration Garden, designed by Charles Dowding and Stephanie Hafferty;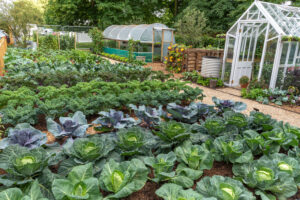 Photo credit – RHS / Tim Sandall
and the Down Memory Lane garden, designed by The Blue Diamond Design Team are just a few.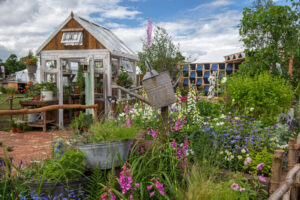 Photo Credit – RHS / Neil Hepworth
The Floral Marquee and Plant Village were, as always, the gem of the show, full of vibrant flowers, plants to buy and free advice.  A huge congratulations should go to all involved in the show for making it such a success in such difficult circumstances
If you didn't make it to Hampton Court, RHS Chelsea Flower Show is due to take place in September this year which will showcase a whole range of different plants  from that which we usually see at the show in May, it will be incredibly challenging for the designers, contractors and the growers but I think will make for great diverse and interesting gardens and will be a very welcome change to the show.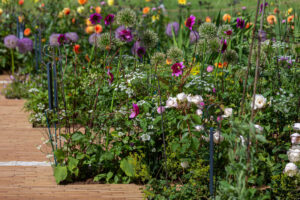 RHS Cut Flower Garden – photo credit RHS / Neil Hepworth