by Lynn Riches | Posted on 9th August 2019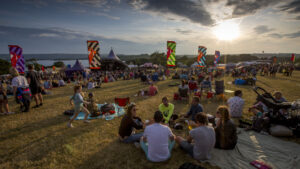 As I sat, last weekend, in our beautiful Somerset countryside, in a gently sloping lakeside meadow,
looking out over chew valley lake which provided a sparkling backdrop, edged by the rolling
Mendip Hills, to the ever growing 'ValleyFest', with the varied sounds of music playing on several
stages and aromas of great food and drink all around me, I took a moment to step back and watch
the festival visitors, all laughing and dancing, eating and drinking, with family and friends enjoying
the great outdoors, I couldn't help but think that Luke, the land owner, and the team that organise
'ValleyFest' had done a fantastic job in bringing our wider community together and been so very
generous to share with us their wonderful oasis.
As a garden designer, many of you will know, I am passionate about encouraging wildlife into our
gardens, working in harmony with nature and connecting us to the landscape around us. In all my
designs I try to inspire and encourage clients to consider and understand how important their piece
of land or garden is and how it will effect not only their wellbeing but also the wider environment.
Being immersed in the countryside, surrounded by beautiful trees and plants, nature and its
wildlife, will always give me a sense of well being and calm and I am sure to others too.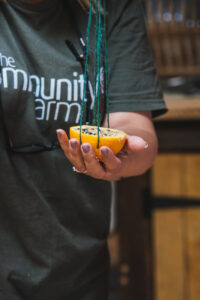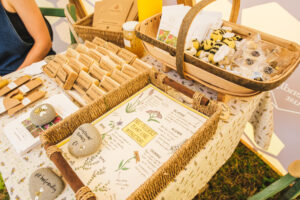 This was an ethos I felt was reflected, on a much larger scale, by everyone involved at 'Valley Fest'
to include the organisers, the sponsors, traders and visitors. I cant congratulate the team enough
on this hugely successful and spectacular event which was held on Luke Hasell's Chew Valley
organic working farm. Luke has said "Having a festival on a working farm means that people can
come and get a better understanding about farming, they can run their hands through the soil.
They can do foraging, have a look round the farm, meet the farm animals, pick veg, and enjoy talks
and workshops on everything from fermenting to cider-making. This is why it's a great family
festival – to show kids where their food comes from and teach them about the land is wonderful –
this is the next generation of environmental stewards." a statement that I very much support.
The festival, spread across the Somerset farm, is perfect for those that enjoy the wealth the
outdoors gives, music and food lovers, first-time festival goers, plus young and maturing families
with plenty of activities for everyone. It encouraged visitors to think about the environment, nature
and wildlife, where their food comes from and the impact that has together with great food and
music to enjoy.
Valley Fest is held in the fields neighbouring The Community Farm, which provides organic
vegetable boxes to around 700 customers in the area. Festival goers were invited to have tours,
get involved in food and farming workshops, learn how to roll sushi, make kimchi as well as join in
a hugely popular bee and wildlife walks.
There was an electic mix of music over two stages with the main lakeside stage hosting Basement
Jaxx DJ set who definitely got the party started on Friday night and Chart-toppers Razorlight who
played on Saturday night with thumping, high-energy rock 'n' roll. Tom Odell took to the stage on
the final night with his piano virtuoso's raw and powerful voice creating a laid back and calm
atmosphere for a sunday. The second stage saw a more varied mix of music inspired from around
the world with some fantastic sounds and vibes.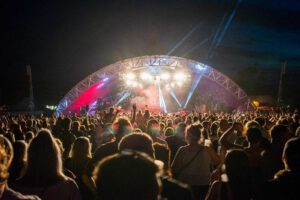 There were some great acts at the gathering place, I loved the 'Hear Here' tent with my absolute
favourite and very talented 'Lip to Lung', a vocal explorer and songwriter who took us through the
physics, physiology and phrivolity of all the sounds a face can make. Sideways yodelling, beatbox/
mouthdrums/vocal percussion, harmonics/throat singing, mic technique, looping, advanced
clapping and vocal distortion (without hurting) were all explored on the way to being a band with
your voice and the lead singer too. Important topics were discussed too at the 'The view point' tent
with the 'Big storey of our planet' by Jonnie Hughs and Dan Huertas who really captured
everyones attention over environmental issues
The region's culinary heroes and heroines were cooking up a storm each night in the form of
feasts, Owner of the local Michelin-starred 'Pony and Trap', Josh Eggleton, together with Rob
Howell, Head Chef of Bristols 'Root', were at the helm on Saturday night and Beth Al Rikabi, the
free range chef, on sunday. There were food demos and workshops galore plus more street food
than you can shake a stick at. Compton Martins 'Ring of Bells' set up camp serving drinks from its
own bar and hosted its own party with some great artists and DJ sets well into the night. Yeo Valley
served some great food from its pop up, ever popular, canteen and local wine producer, Aldwicks,
were supplying the visitors with their mouth watering locally made wine.
Much of the drive to run the festival comes from the fund raising opportunity it creates. Last year,
Valley Fest raised £14,479.15 for Teenage Cancer Trust and they are very much hoping to beat that
record this year.
The party went on all weekend and we were sad to say goodbye sunday night. The dates have
been set for next year of the 31 July – 2 August 2020 and I cant recommend enough that you book
the weekend out in your diaries and get yourself some tickets. I look forward to seeing you there!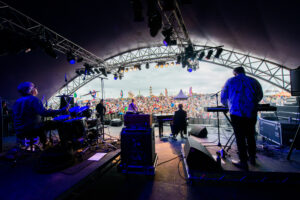 Photographer Credit: With thanks to Ania Shrimpton and the ValleyFest team.
Press Release: With thanks to Malissa Kidd and the the ValleyFest team.