by Lynn Riches | Posted on 6th August 2021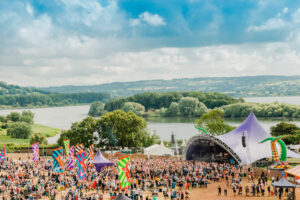 Photo credits Ania Shrimpton and the ValleyFest team
'Valley Fest' kicked off the party for the summer being one of the first festivals to take place for over a year and everyone was certainly ready to let their hair down and enjoy the celebrations. It takes place every year in the valley looking over the beautiful sparkling chew valley lake, placed in a gently sloping lakeside meadow with the rolling mendip hills in the distance, the location couldn't be more perfect.
With the varied sounds of music playing on several stages and aromas of great food and drink all around me, I took a moment to step back and watch the festival visitors, all laughing and dancing, eating and drinking, with family and friends enjoying the great outdoors, I couldn't help but think that Luke, the land owner, and the team that organise 'ValleyFest' had done a fantastic job in bringing our wider community together and been so very generous to share with us their wonderful oasis.
As a garden designer, many of you will know, I am passionate about encouraging wildlife into our gardens, working in harmony with nature and connecting us to the landscape around us. In all my designs I try to inspire and encourage clients to consider and understand how important their piece of land or garden is and how it will effect not only their wellbeing but also the wider environment. Being immersed in the countryside, surrounded by beautiful trees and plants, nature and its wildlife, will always give me a sense of well being and calm and I am sure to others too.
This was an ethos I felt was reflected, on a much larger scale, by everyone involved at 'Valley Fest' to include the organisers, the sponsors, traders and visitors. I cant congratulate the team enough on this hugely successful and spectacular event which was held on Luke Hasell's Chew Valley organic working farm.
There was an eclectic mix of music over two stages with the main lakeside stage hosting the headliner Texas who definitely got the party started on Friday night and Chart-toppers Decon Blue who played on Saturday night continued the party. Razorlight took to the stage on Sunday night and after a late cancellation the crowds were treated to the sounds of Bjorn Again to end the show, there wasn't a single person who wasn't dancing, singing or humming to their covers of songs we all know and love.  The second stage saw a more varied mix of music inspired from around the world with some fantastic sounds and vibes.
The region's culinary heroes and heroines were cooking up a storm each night in the form of feasts, Freddie Janssens Mexican sharing feast was a must Friday night. Saturday brought a very special feast from the duo, Michelin-starred Pony and Trap's Josh Eggleton, together with Rob Howell of Bristols most popular restaurant 'Root', who were at the helm and Luke Hassells big family BBQ returned on the sunday. There were food demos and workshops galore plus more street food than you can shake a stick at.
There were also some great acts and workshops taking place every day for all members of the family whatever the age. There were so many to choose from but my favourites included 'The Healing Power of Plants', 'One wild and precious life' and 'Loops and the Lake' with Chris Vox.
It truly was a huge success and a fantastic weekend. Tickets are now on sale for ValleyFest 2022 taking place on 4 -7 August and I cant recommend highly enough booking the dates in your diary and securing your tickets now. I cant wait to see you there.