by Lynn Riches | Posted on 21st May 2019
RHS Chelsea Flower Show 2019 is here again and it is a huge success with design, planting and landscaping ideas to take home to inspire us.
This year's show is stunning and has a very strong theme of woodland and water, natural green planting with hints of white, yellow and blue or purple, it is simple and its beautiful. I am going to share with you some of my favourites this year and if you haven't made it to the show maybe take some time to look up the gardens online or in the many magazines celebrating them, it's not too late to take some inspiration for your gardens at home.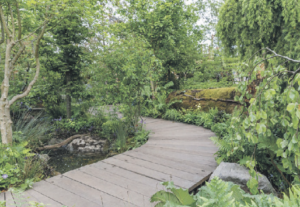 The most talked about garden around the show ground this year was the RHS Back to Nature Garden, a collaboration between Designers, Davis White, and the HRH the Duchess of Cambridge and I loved it. As soon as you step into the garden of wild trees, shrubs and playful woodland planting you feel instantly relaxed. It is inspired by nature and natural woodlands, full of fun and adventure for children to explore and enjoy, you can almost hear the laughter of children echoing around the garden!
Another of my absolute favourites and also celebrating the beauty of trees and natural planting is Andy Sturgeons M&G Garden inspired by nature's power to regenerate. Take your time to immerse yourself in this garden, whether you are at the show to experience it or simply reading about it, you will miss so many hidden gems if you don't.  What I love about Andy Sturgeons garden is the contemporary design and sculptural touches he adds whilst keeping it very natural, it is very clever.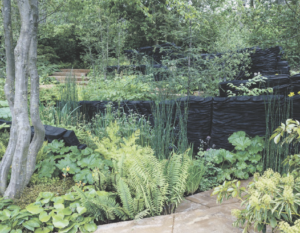 The garden designed by Thomas Hoblyn, The Dubai Majlis Garden, has some beautiful sculptural curves throughout the garden reflecting the landscape in Dubai with a stunning pool creating an oasis in such an arid landscape, I really loved this garden, every curve seamlessly moving into the next, not an easy design to create and a huge acknowledgement should go to the contractors and landscapers who built this with excellence and fabulous attention to detail.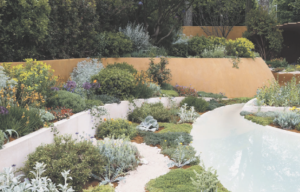 Woodlands have inspired the beautiful artisan gardens too this year and the Family Monsters Garden featuring a silver birch grove and a central pool of water was a beautiful serene and calm space to enjoy amongst the hustle and bustle of the showground. If you visit the show the artisan gardens are always somewhere to head for first before it gets too busy, the gardens although small,  are always the most inspirational and beautiful spaces of the whole show ground in my opinion.
I also loved the message and the atmosphere of the 'Giving Girls in Africa a Space to Grow' garden and it is well worth spending time with this garden and understanding the importance of horticultural education in African countries particularly in a time of climate changes. I loved it.
The floral marquee, always the gem of the show, is as stunning and fragrant as ever with some fantastic displays on offer. Blackmore and Langdon, our local nursery of delphiniums and begonias, never fail to put on a fantastic display and have produced a stunning exhibit as always with yet another Gold Medal to bring home to the West Country.
Chelsea is a fabulous show and it is always inspiring to see the hard work that takes place by all involved from the designers to the contractors, the craftsmen, artisans, the nurseries and growers, it is a combined effort from all involved both during the show and its build to the 12 or even 18 months before.