by Lynn Riches | Posted on 24th September 2021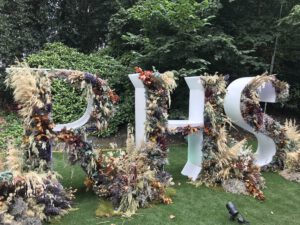 The most prestigious flower show in the world, RHS Chelsea Flower Show, usually takes place in May but, finally took place at the end of September this year. Having been cancelled for two years in a row, it was a fabulous celebration of autumn with 27 gardens in total of different shapes and sizes. A huge congratulations must go to all the RHS, designers, contractors and growers for their efforts to ensure the show took place, it was a fabulous success.
It was such a breath of fresh air to see a different colour pallet, with different plants and textures in the gardens, to that which we usually see at the May show and I for one loved it. When the designers, contractors and growers were informed of the change of season to the show the initial reaction was one of shock, disbelief that they could take part at all with the change in season but, quickly the creative minds overcame all that and with it an ability to find solutions so the show could go on.
Carefully laid plans for a spring show had to change, many nurseries sadly could not make it and pulled out, impossible for their specialist plants to make the new date but, with that came new nurseries, ready to join the elite at Chelsea Flower Show, offering a different set of plants that often cann't make the spring show. The designers and contractors, with their changed plans and a different set of plants, worked hard to bring the gardens to life and show us a garden for the autumn. Many were luscious green and white pallets, many embraced the autumnal colours of bronzed oranges, yellows and reds, which I loved, and many used the vibrant colours available for that time of year. 
There were six large show gardens of which four achieved a gold medal, I enjoyed them all and have picked out my favourite four to show you although, without question, the Guangzhou China Garden really stood out above all others for me and one that drew me back to many times, it was a stunning oasis of calm and certainly deserved its gold medal and best in show awards.
The Guangzhou Garden highlights the benefits of responsible city planning and how planners must work in harmony with nature to better connect people with the natural world. Climate change, the growth of mega cities and potential mass extinction of species requires a re-evaluation of planning policy. The garden features a woodland dell for cleaner air (the lungs), a pool of water (the kidney) and shelters ( the heart) a social space for people to gather and homes for wildlife. The planting created an elegant and graceful space, every element worked in harmony with each other, it was simply stunning.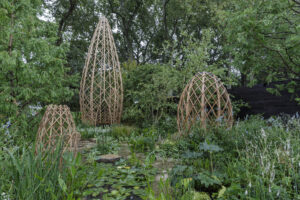 Guangzhou China: Guangzhou Garden. Designed by Peter Chmiel with Chin-Jung Chen. Sponsored by Guangzhou Government, China. Show Garden. RHS Chelsea Flower Show 2021. Credit: RHS / Neil Hepworth
Another favourite of mine was the The M&G Garden. Designed by Harris Bugg Studio.The garden was designed as a shared green haven for people and wildlife, set in a busy urban environment. They had really embraced the autumnal colour pallet in the planting and was a beautiful garden that any city could recreate given the space and forward thinking.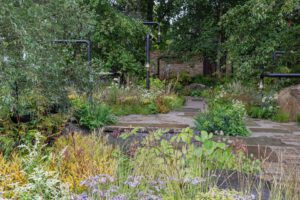 Credit: RHS / Neil Hepworth
I also really enjoyed the 60° East: A Garden Between Continents which drew upon east and west to create a unique blend of European and Asian planting palettes, brought together in a sweeping naturalistic composition of Mountain landscapes; its peaks, forests, rivers and slopes. The planting was a romantic haze of green, purple and white which was truly stunning with waterfalls, bubbling rivers and two beautiful rusted sculptures held within it.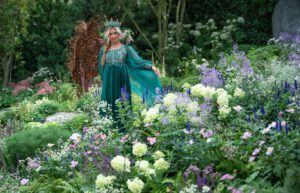 Garden designed by Ekaterina Zasukhina and Carly Kershaw at RHS Chelsea Flower Show 2021. Credit: RHS / Suzanne Plunkett
Yeo Valley created a garden to reflect the family-run organic garden local to me in Somerset. It was designed to highlight an important message close to my heart, to nurture soil health and biodiversity, to support pollinators and other beneficial wildlife. Tom Massey designed the space and did a great job taking the Somerset countryside to London. It achieved a Gold Medal and The Peoples Choice Award.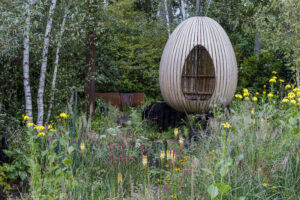 The Yeo Valley Organic Garden. Designed by Tom Massey, supported by Sarah Mead. Sponsored by Yeo Valley Organic. Show Garden. RHS Chelsea Flower Show 2021. Credit: RHS / Neil Hepworth
There were only two artisan gardens this year both of which were beautiful, these are usually the highlight of the show for me so it was very disappointing not to see more but I hope they will return in numbers next year. These gardens always tell a story within the garden and showcase our very important artisan trades, The Forge Garden by the Blue Dimond Group showcased gorgeous natural stone walls and a beautiful thatched roof to a working forge, incorporating a stream and natural planting that looked like it had been there for ever!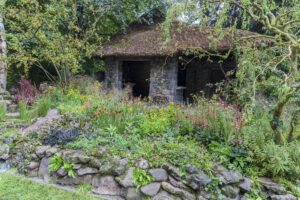 The Blue Diamond Forge Garden. Designed by The Blue Diamond Group Team. Sponsored by Blue Diamond. Artisan Garden. RHS Chelsea Flower Show 2021. Credit: RHS / Tim Sandall
There were also the addition of the sanctuary gardens, balcony gardens and container gardens all full of inspiration, stunning planting and ideas for everyone no matter the space available.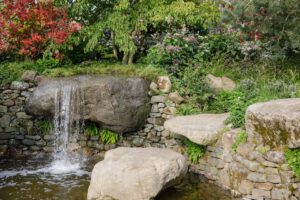 Bible Society: The Psalm 23 Garden. Designed by Sarah Eberle. Sponsored by Bible Society. Sanctuary Garden. RHS Chelsea Flower Show 2021. Credit: RHS / Sarah Cuttle
Finding Our Way: An NHS Tribute Garden. Designed by Naomi Ferrett-Cohen. Sponsored by Oxford University Hospitals NHS Foundation Trust, University of Oxford and Gilead. Sanctuary Garden. RHS Chelsea Flower Show 2021. Credit: RHS / Sarah Cuttle
There were also some very important exhibits created by the RHS around the site too and none more important than the exhibit created by the RHS water scientist Janet Manning, supported by designer Dave Greene, to encourage us to reduce our mains water use in the garden. To was great to see Jonnie Hughes, director and producer for Sir David Attenborough, on the exhibit, who is also evaluating research into climate solutions. He joined the team to make his personal pledge to highlight how we need to learn to live within the natural world and how we can do this in our very own gardens. With the change in climate and unpredictable weather patterns it is unimaginable that the UK could run out of water yet, as Janet explained, unless we rethink our water management thats exactly what could happen in as little as 30 years time. They had some great advise which you can catch up with and make your pledge at 'Mains2Rains'
It all gave for a very different show this year and all the gardens were different in their approach which resulted in a more varied planting on each garden. I was very proud to report my local area of Somerset and The South West brought home some well deserved medals and awards, it was a fantastic achievement by all.